Many Northern rivers that develop ice covers during the winter are prone to ice-related flooding. To assess flood risk and mitigate its impact, it is imperative to monitor the development of ice covers throughout the ice season, with particular emphasis on the freeze-up and break-up periods.
The severity and economic impact of ice jam-related floods is exacerbated by the dangers of post-flood freeze-up. Key parameters required to assess the danger of flooding due to ice jams include the location, extent, and structure of the ice field. However, a systematic determination of these parameters is difficult to achieve over large areas using conventional, field-based, and aerial surveillance methods. In remote and inaccessible areas, frequent surveillance can be cost-prohibitive. Earth Observation (EO) has emerged as a critical tool to collect information on river ice development over large areas consistently throughout the ice season. C-CORE uses a suite of sensors to monitor ice conditions throughout the season to support:
Municipal water resource management

Operators of hydroelectric plants

Flood damage prevention
The baseline service uses high and medium-resolution satellite synthetic aperture radar (SAR) during ice formation and break-up to detect if hazardous ice features are forming. During the mid-winter, medium-resolution data may be used to monitor the ice cover. All available data is considered when interpreting the SAR image, including past image analysis, weather conditions, satellite optical data, hydrometric, and web cameras.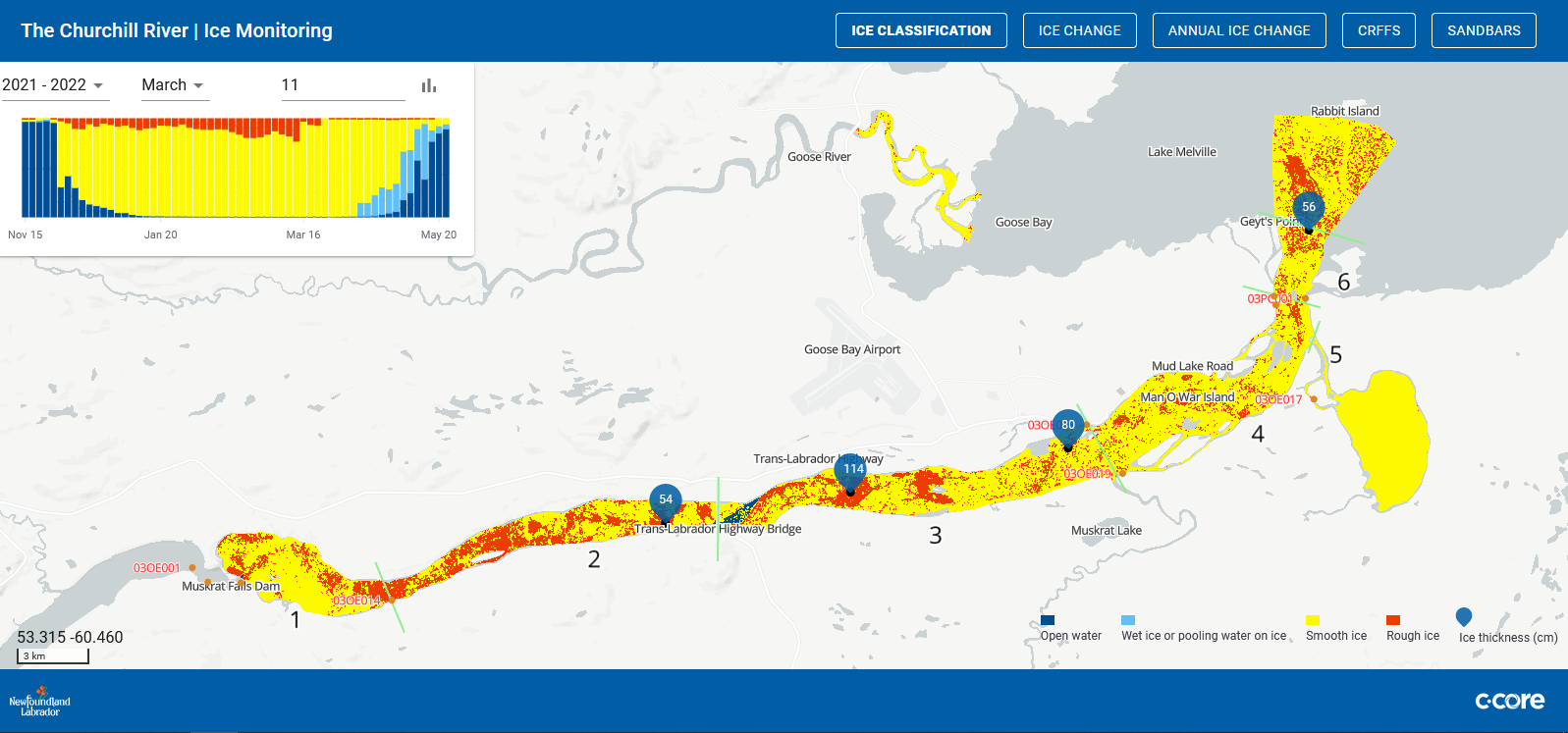 River ice services are delivered through Coresight. This product is an example of an ice classification product that reveals the early stages of break-up and potentially hazardous ice conditions. The information products are used to assess flooding risk and develop an understanding of ice conditions and how they change over time.
The first product delivered is the ice front, which indicates the location of the ice. Further analysis is used for an ice classification that indicates stable and unstable ice cover. A comparison between consecutive image products is delivered to show changes in the ice, open water, and hazardous ice cover.  These products are inputs to river ice forecast models.  
C-CORE can also deploy buoys to monitor the temperature and extract ice thickness, which is critical for river ice forecast models. Aerial ice-penetrating radar flights may also be used to detect the thickness of the ice along river ice segments of concern.  
The data compiled from C-CORE's services are delivered through Coresight, C-CORE's data management platform (for example see churchillriver.app), to help track changes over the ice season and facilitate comparisons with previous years.