08/10/2020
TO ASSESS CONCEPTS FOR SATELLITE SYSTEMS TO MEET CANADA'S FUTURE EARTH OBSERVATION NEEDS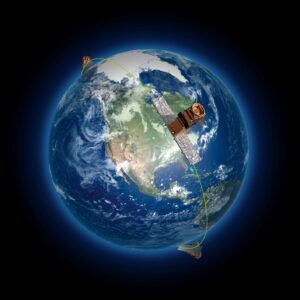 C-CORE has been selected by the Canadian Space Agency (CSA) as one of eight satellite subject matter experts from across the country to assess concepts to eventually replace RADARSAT Constellation Mission (RCM), launched last year, when it reaches the end of its expected operational life in 2026.
Canada is a world leader in Synthetic Aperture Radar (SAR) Earth Observation (EO) systems, which are well-suited to monitoring Canadian territory. SAR "sees through" darkness, cloud, fog and most weathers, providing 24/7 surveillance during the long Arctic night as well as in foggy and stormy northern and offshore conditions. CSA has begun planning for the next generation of EO systems to maintain and enhance this capability beyond 2026.
These systems, which are intended for operation 2026–2041, would include a space segment (the satellite platform, sensors and new, archived, open and commercially available data), ground segment (receiving and transmitting infrastructure to downlink and disseminate data) and data exploitation (analysis to make sense of the data). Options for future systems are also expected to leverage access to non-Canadian infrastructure and data, utilize AI for efficient analysis of very large datasets, and enable centralized access to user-friendly applications and information products to meet stakeholder information needs.
"C-CORE has experience and expertise in all aspects of SAR EO systems and data analysis through previous hardware and software development projects and provision of operational monitoring services," says Desmond Power, C-CORE VP of Remote Sensing. "We're looking forward to drawing on that extensive knowledge base, and that of our subcontractors Airbus and AstroCom, to explore where Canadian Earth Observation can go next. CSA's strategic R&D investment is enabling the technologies, data collection and analysis needed for good environmental stewardship and climate awareness now and in future."